In the picture shown, you can see that the boards are covered in a layer of dirt and moss/mould. It is important that before you proceed in cleaning the boards, that any top coat of varnish or any timber coating is removed, by either sanding and or using a paint stripper. In this case the boards have been exposed to the elements for some time and the top coats of varnish have deteriorated, thus leaving the boards exposed.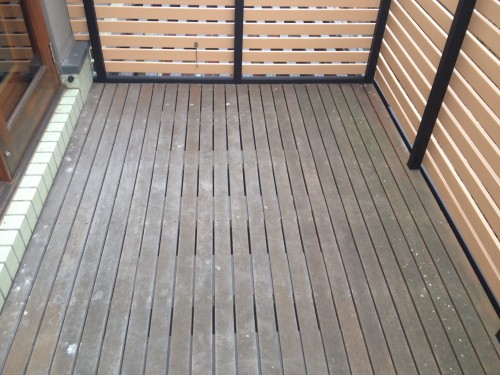 On this occasion, I used a mixture of one part Oxalic acid and four parts water. Oxalic acid is a terrific product for restoring timber that has been weathered considerably. It helps to remove the grey/ black staining of the timber and restore it's natural colour. Depending how long the stains have been there will determine how much cleaning is required.
Whilst the acid was dissolving, I soaked the boards ready for application of the acid. Make sure that you wear appropriate clothing, gloves, safety glasses and or face shield as you are using a solution that contains acid. Using a stiff brush and starting at one end, apply the mixture to the boards and gradually work the mixture into the grains to remove the dirt and moss. Depending on the stubbornness of the dirt you may have to work the brush harder.
Once a section is complete, hose the boards with high pressure water and repeat the process on the next section. Once the entire deck is scrubbed and washed allow the boards to dry and view the results. If some sections still exhibit dirt or moss etc, then repeat the process again. If you are satisfied that all areas of the deck are clean, then allow the boards to dry completely for a couple of days before you apply the relevant coatings.
Here is the final result of cleaning the boards. In this project I had to clean the boards twice with the Oxalic acid and water as the dirt and moss was a little difficult to remove. The owner was delighted with the result and decided to leave the boards natural.